We noticed some guys taking pictures at the World War II Memorial and decided to see what they were up to. We found out that they were friends from Atlanta, both named Jay. They made the 8-hour journey in the car on Saturday. Weirdly, that's not that much longer than we spent in the car on our own trip from Athens.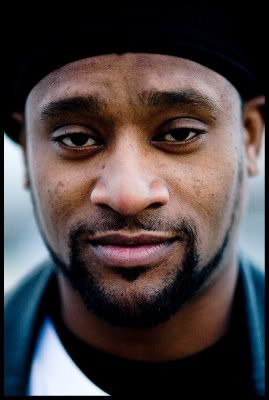 Photo by Andrew Spear
Jay, 26, Atlanta
How does it feel to be in D.C. during Obama's inauguration?
This is amazing to me. I've never been here. I thought it would be colder, and I didn't know about all of this stuff – big rock buildings. All of this stuff is stone! I haven't been out of Atlanta since '95. I went to college in Florida at Full Sail, a music school, and came right back. This is crazy. You see it on TV all the time, but it's just wild. I'll tell you, I'm not disappointed.
What do you do for a living?
I work at Comcast and I have a magazine,
Street Therapy
. [We cover] educational stuff for younger kids, hip hop and what's going on in our community. It's a DVD and Internet magazine.
What do you think about Obama being president?
I wanna see it! That's why I drove here. I think he's cool. There's a first time for everything.
What changes do you hope to see Obama make?
I just hope that everything is fair. I don't know how fast he can do it, but I hope that pretty much the less fortunate can get a bigger piece of the pie, so to speak. There's a lot of little things that I can't explain how I want to, but if he can do what he says he can do, then it should be some change for the country. He hasn't showed me nothin' bad yet.
His friend, also named Jay, had a lot to say, too.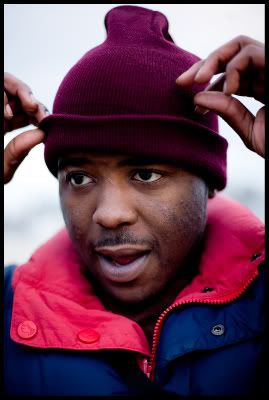 Photo by Andrew Spear
Jay, 24, Atlanta
How does it feel to be here?
It feels great, actually. The way that everything is coming along and getting a hold of the history… [it's great] just to be here to experience it, you know?
What do you think about Obama's first day in office being the day after Martin Luther King Day?
It's pretty monumental. It's definitely a big stride for African-Americans. We have a lot of things that we still need to work on though. It's not over. It's really just the beginning of the battle, so we're kind of here in the forefront.
Is there any particular change you want Obama to make?
Community. Hopefully we can get a strong community and get us to all come together. We have minds; we just really have to utilize them. It's the beginning of the battle though, and we have a lot of work to do.
What do you hope Obama does for the country?
We just need to get our foot back on the pedestal where America needs to be. We've lost a lot of respect over the war. I mean, look at our economy. We always used to be a superpower. Over the past 8 years, things have definitely decreased. We really just have to get our respect back over the world. That's really what we have to do.
What are Obama's best qualities?
Where I'm from we say Obama has "sway." He has a mean sway. And I mean, just look at the way he carries himself. The way he talks, and the way he walks. He's just smart. The thing that people forget too is that his wife is real mean. Michelle is just something else to be reckoned with. Between Barack and Michelle… well…(he laughs)
Why do you think Obama will make a good president?
I think the only man who can really get us out of the trouble that we're in is Barack. You just have to see how everyone celebrated, not just within America. Even across the Middle East, even in Africa, even in Australia, even in South America. He's really the only guy who can get us out of trouble.